From Zone5 Promotions-
We've been in a mad scramble the last six days. Please read our notes on the four events listed in the subject line for recent race calendar updates and changes.
*Dirty Circles (Canceled)*
I have bad news about the venue at Dirty Circles in Woodland. Dike road has been damaged by ongoing heavy truck traffic from a sand and gravel operation that will be going on for the next 18 – 24 months (see attached photos). I was up at the site last week inspecting the road and it is overwhelming how bad it is. With the time of year and expected ongoing traffic, I don't see the county doing timely repairs within the next 5 weeks to make it safe for racing.
With the damage to the roadway, the venue is not viable for the present and near future. We'll say goodbye to this venue for good.
For the current registered racers, you will receive a refund shortly.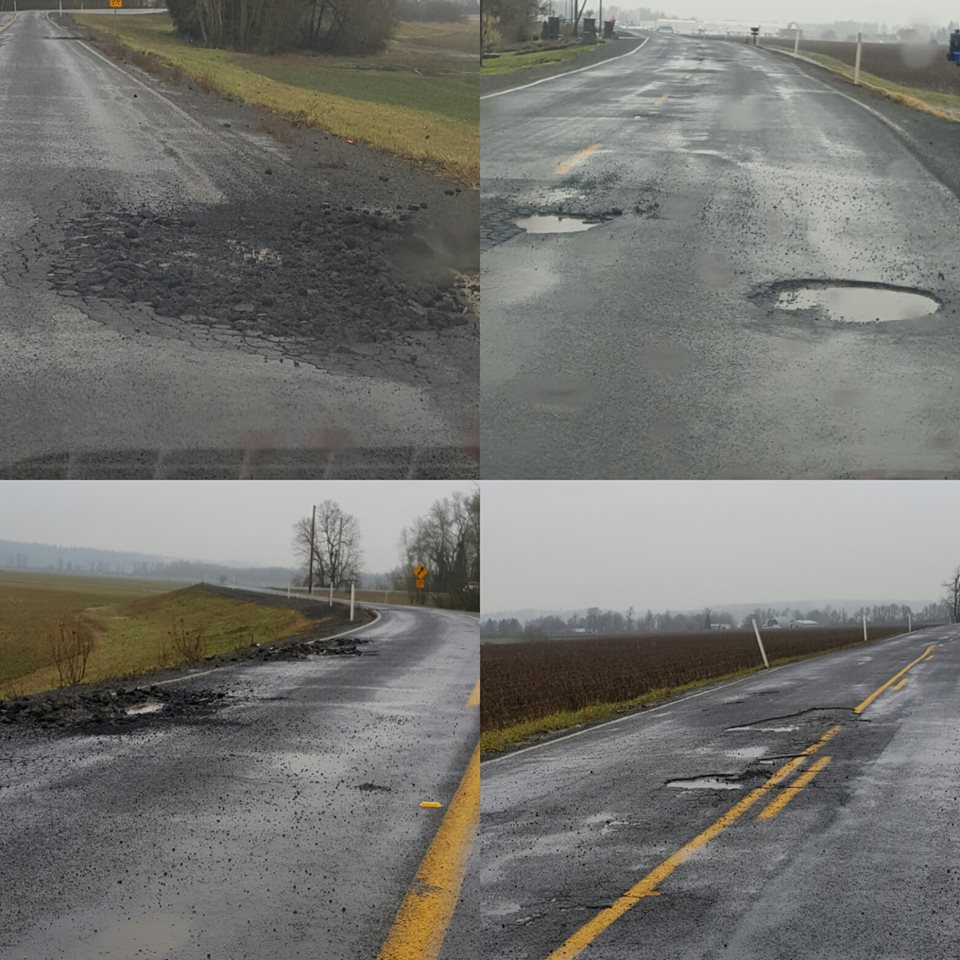 *Jack Frost TT *
With the loss of the Woodland venue, we're going do all we can to resurrect this event. I have the venue booked for *Sunday March 5th, 2017* (Sunday Feb 26th is already booked by the rescheduled Vancouver Lake Half Marathon). I'm working on the WDOT and city permits right now. We have designed a new 20k course, but need get through the permitting process to be sure that it's acceptable.
Date: Sunday March 5th, 2017.
Course length: 20k (12.43 miles)
Elevation gain: 384 ft.
Online registration is currently being set up and we hope to have a flier out to you all soon. Stay tuned.
*Piece of Cake RR *
To fill the void created by the loss of Dirty Circles we have been working hard to find a replacement venue. We've settled on a new road race course SE of Aurora, OR. I spoke with the traffic engineer at Clackamas County and had a very positive response to the course design and event. I still need to get a TCP and permit figured out but all lights look green for the new venue/event. This will be a one day event. As for the name, Dirty Circles
http://industry.obra.org/wp-content/uploads/2015/01/OBRA_BannerBlk_Txt-300x135.png
0
0
kenji@obra.org
http://industry.obra.org/wp-content/uploads/2015/01/OBRA_BannerBlk_Txt-300x135.png
kenji@obra.org
2017-01-26 19:57:20
2017-01-26 20:09:05
Dirty Circles and Jack Frost Update