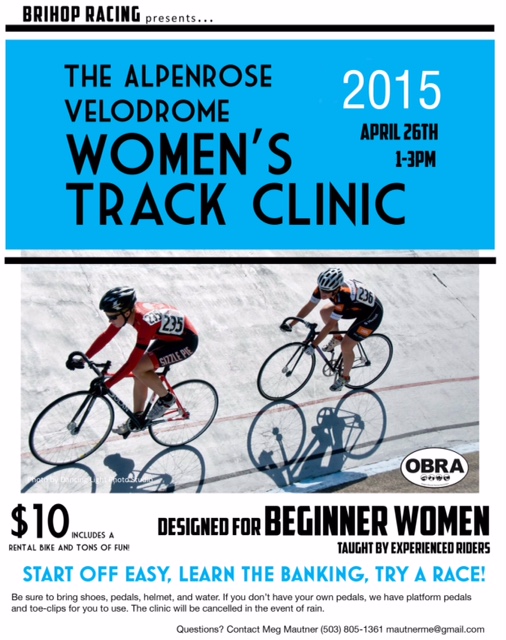 Dowload the flyer:  2015_Womens_Track_Clinic
https://industry.obra.org/wp-content/uploads/2015/04/MG_69652.jpg
816
1280
kenji@obra.org
http://industry.obra.org/wp-content/uploads/2015/01/OBRA_BannerBlk_Txt-300x135.png
kenji@obra.org
2015-04-15 18:18:17
2015-04-15 18:19:56
4/26 - 2015 Alpenrose Women's Clinic!
Hello OBRA and WSBA folks:
Today is the first Saturday in April and that can only mean two things:  The Tour of Flanders is tomorrow AND the Second Saturday in April is only one week away, which means that the Nearly World Famous Kings Valley Road Race is coming up fast. A few things to note for this years race:
We have had such a large turnout for our mens' masters field in recent years that we are running separate 40+ and 50+ fields this year.  Note that 60+ has a separate 4 deep prize list and will race with the 50+ group.
Our beer sponsor is back with half cases of  Hop Valley Brewing beer to the winner of the first lap of most races.
We always are in need of support drivers to make our races as safe and sporting as possible, so if you are racing and have a spouse, friend, or minion who can drive a vehicle for us, you get a free entry and they get their race gas $ covered as well as a tasty lunch.  Please contact me @ scott.goldstein@summitbankonline.com
Advance weather forecast for race day calls for typically excellent racing weather…as is the norm for Kings Valley.
Further bulletins as the days progess.  See y'all at the race!
-Scott Goldstein
Promoter, Kings Valley RR
http://industry.obra.org/wp-content/uploads/2015/01/OBRA_BannerBlk_Txt-300x135.png
0
0
kenji@obra.org
http://industry.obra.org/wp-content/uploads/2015/01/OBRA_BannerBlk_Txt-300x135.png
kenji@obra.org
2015-04-05 16:43:27
2015-04-05 16:43:27
King's Valley Update

All levels of bicycle racers invited to the start line for the Monday Night Bicycle Race Series at Portland International Raceway. Races are organized for five months from April 20 – August 31.
PORTLAND, Ore. (April 1, 2015) Portland International Raceway shifts into high gear as the Monday Night Bike Race Series kicks off its season on April 20th. Hundreds of racers of all levels will sprint to the finish in this long-running series. Participants race for fun and prizes all season long every Monday night, April 20 – August 31.
"Bicycle racing continues to grow in Oregon, and we see new racers each year trying it out. PIR is a great place to learn about racing," said series race organizer Jim Anderson. "The race series is designed for experienced, novice and curious bike racers alike. There are a wide variety of categories to fit the needs of a growing sport. Also, with the track being easily accessible in North Portland, we expect our great bike racing venue to be packed with racers this summer," said Anderson.
In the Monday Night Bike Races, support for cyclists learning how to race is a priority. The series offers several opportunities to learn and get excited about bike racing for first-time racers. Free introduction to racing clinics will be offered the second Monday of each month at 5:30 p.m., beginning in May. These short, concise clinics are led by coaches and experienced racers to teach the basics of racing to beginners. The series also receives support from Let's Race Bikes, a women's racing group. These racing ladies will gather the first Monday of each month from May to August. Let's Race Bikes members will be available to answer racing questions, engage new riders and provide a fundamentals racing clinic.
This year the series has partnered with Oregon Bicycle Racing Association (OBRA) to offer Try Bike Night, an event to encourage novice racers to come out to PIR. Try Bike Night events will be held May 4 and July 13. For these events, OBRA will waive the one-day membership fee ($5) for racers rolling up to the start line for the first time. ($15 entry fee still applies.)
All levels and abilities are welcome and encouraged to attend: all that's required is a helmet, a road bike and a sense of adventure. There are separate races for novice men and novice women, two categories for more experienced master (age 30+) men, and two categories for women (any age).
The course is a 1.9-mile, flat, wide and smooth paved loop of the Portland International Raceway (1940 North Victory Boulevard, Portland, OR 97217) in North Portland. The raceway circuit is closed to all car traffic.
Entry fee is $15. Registration area opens at 5 p.m. and is located at the start/finish area in the middle of the track, opposite the main grandstand. An OBRA license is required to race and is available at registration for $5 (single-day) or $30 (annual) and is available at the race or at www.obra.org. Online registration is available at www.racemondaynight.com.
Top-placed racers are eligible to receive gift certificates from fantastic local sponsors Laurelwood Brewing Company and River City Bicycles, and Castelli will award monthly leader jerseys along with the competition for the Team Prize. Prize is $1,000 for the team with the most collective points—across all categories—for a month. Teams are encouraged to enter as many racers as they can in all levels to increase chances of winning points. The prize will be awarded twice—once in July and once in August. But the emphasis is on learning, improving and getting a great workout in a fun, sociable and exciting environment. Racing starts at 6:15 p.m. on Monday nights from April 20th to August 31st.
More information at: www.racemondaynight.com.
https://industry.obra.org/wp-content/uploads/2015/04/pir063014-0269-web-980x722.jpg
722
980
kenji@obra.org
http://industry.obra.org/wp-content/uploads/2015/01/OBRA_BannerBlk_Txt-300x135.png
kenji@obra.org
2015-04-02 16:45:11
2015-04-02 16:45:11
Beginner Friendly Monday PIR Begins in 3 weeks!